the M-factor

Five years ago, Bruce McKay and I were jumping off the deep end into the cloudy waters of small business ownership. It seems like a very long time ago. During the last couple of weeks, I have looked over old paperwork -- our first marketing letters, first fee proposals, first invoice (hooray!) -- and photographs of Bruce working over drawings on the dining room table. They were good, albeit stressful, times.
Bruce and I founded the McKay/Moore Partnership in early 1996. Our primary focus was to offer cost estimating/consulting services for all disciplines of a construction project -- architectural, structural, mechanical, electrical, and civil -- to owners and to local architectural/ engineering firms. A secondary focus was to provide off-site administrative assistance to the A/E community and to other businesses and individuals. After Bruce's death in August of 1997, the company was renamed McKay/Moore Consultants. It was first certified WBE/DBE in January 1998.
The core goal of McKay/Moore Consultants continues to be to provide independent, impartial cost advice to the design and construction industry. The ongoing support of a network of experienced cost control consultants ensures McKay/Moore's capability to respond to clients' needs in a professional and timely manner. Several of the cost control experts in our consultant pool have over thirty years' experience.
From the outset, McKay/Moore has used the services of independent cost estimators who provide specialized expertise. I would like to take this opportunity to thank and recognize the substantial contributions of all of the estimating consultants who have supported us during the past five years. In particular, I would like to thank the two who have been with us the longest and have provided us with continuing reliable assistance in our efforts to "cover all the bases" of construction cost estimating services.
Ron Angeline, whose own firm, Angeline and Associates, was established in 1978, provided electrical estimating support to Ackroyd, later to McKay/Moore Partnership, and still, to McKay/Moore Consultants. He continues to offer quality technical/engineering support services and has a team of highly skilled contract engineering professionals available to provide assistance with the complicated and specialized mechanical and electrical systems found in many of our clients' projects. Ron's resources include mechanical, structural, civil and electrical, plus environmental and software engineers, along with architects, estimators, planners, schedulers, construction managers, drafters, CAD operators, and more, including licensed engineers. So, though McKay/Moore is a small business, our capabilities are amplified through the resources available to us on an as-needed basis. Our sincere thanks to Ron and his team.
Venne Beauchamp first approached McKay/Moore in the fall of 1996 in response to an advertisement we placed for free-lance estimators to support us with our brand-new company's growing estimating needs. We were impressed by his résumé and his depth of experience (over 35 years). His introductory letter stated, "I am the 'old pro' you are looking for." I have indeed found that to be the case. Venne's experience, not just as an estimator, but also as a hands-on construction worker, supervisor, and project manager, give him a perspective that has served us and our clients well. Venne also has a degree from UW in Forest Engineering with minors in both Civil and Industrial Engineering. He has served as McKay/Moore's lead estimator on everything from building code upgrade estimates to hospital additions and remodels, from Seattle Housing Authority renovation projects to large athletic complexes. We can depend on Venne not only to give us his best take on the numbers but also his forthright opinions on how to help the client save money or choose a contractor. He has a good sense of the current market and what it may mean to our clients' projects. Thanks, Venne -- yes, you are the "old pro" we were looking for.
The following is an abbreviated list of some of the clients who have used McKay/Moore's services over the last five years, and to whom I would like to express my thanks for their business:
These are but a few of the folks who have repeatedly come to McKay/Moore for cost estimating support on their projects during the course of our firm's five-year history. Here's to the next five!
In 2001, McKay/Moore has continued to work with old clients and to develop new ones. We have been asked to submit proposals on a wide assortment of projects, ranging from a King County Housing Authority renovation to a proposed 72-acre Multi-Use Athletic Park in Snohomish County. We have also been approached by an out-of-state electrical contracting firm to provide costs for electrical systems for educational facilities.
Our Remote Secretarial service continues to be in demand, as well, and word processing, tape transcription and other projects for local architects, contractors, property management firms, business owners and individuals are ever increasing.
Editor's note (May 2, 2001): McKay/Moore's relationship with Jerry Stickney and Ron Murphy goes back to our Ackroyd days, and when Bruce and I started our new company in 1996, Stickney and Murphy Architects was one of our first clients. Five years ago today, May 2, 1996, we sent Jerry our first fee proposal for estimating services on Housing Hope Village. It is with pleasure and appreciation that we feature Stickney Murphy Romine, as the firm is now known, in this issue.
STICKNEY MURPHY ROMINE ARCHITECTS PLLC was established in 1997, having evolved from STICKNEY & MURPHY ARCHITECTS, the nineteen-year partnership of Jerry Stickney and Ron Murphy.
Stickney Murphy Romine Architects is best known for new and rehabilitation designs to provide affordable multi-family housing, commercial and institutional uses. Many of the firm's projects have received award recognition citing appropriateness and sensitivity of design, as well as quality of construction.
The firm's professional services comprise all phases of architectural practice, including site planning, feasibility studies, tenant space planning, barrier-free design, and knowledge of tax incentives for low-income housing and historic buildings. The firm principals are members of the American Institute of Architects, and bring many years of combined experience in commercial, institutional, and residential building projects.
Private and public sector clients include Artspace Projects, Inc., Plymouth Housing Group, YWCA of Seattle-King Co.-Snohomish Co., and other prominent developers and professional clients. Current work includes: new office building, branch library, and housing projects in Seattle; major rehabilitation and infill design for properties in Pioneer Square; and other studies.
Jerry Stickney has been responsible for the design and administration of a wide range of projects, including university buildings, fire stations, and housing projects. Mr. Stickney holds a certificate from the National Council of Architectural Registration Boards and is a past member of the Issaquah Development Commission; he received his architectural degree from Washington State University.
Ron Murphy's emphasis has been in multi-family housing, commercial and residential rehabilitation, and historic preservation projects. Mr. Murphy is a past member of the State Advisory Council on Historic Preservation. He has taught at the Architecture Department of the University of Washington; he holds a Master of Architecture degree from the University of Washington.
Mike Romine joined Stickney & Murphy in 1985 and is experienced in housing, historic preservation, and commercial projects. Mr. Romine has a Master of Architecture degree from the University of Washington.
Senior Associate Ron Hopper joined Stickney & Murphy in 1990. Mr. Hopper graduated from the University of Washington and is experienced in affordable and senior housing, suburban development, the rehabilitation of older buildings, and institutional and retail projects. He serves on the Board of Trustees for a Seattle non-profit providing affordable housing.
Associate John Woodworth joined Stickney & Murphy in 1994. A graduate of the University of Washington, Mr. Woodworth is experienced in the design of new special needs and affordable housing and institutional projects.
Associate Vernon Abelsen has a Master of Architecture degree form Virginia Polytechnic Institute. He is experienced in affordable housing, rehabilitation, institutional projects and school buildings. Mr. Abelsen joined Stickney & Murphy in 1996.
Since 1977, with the establishment of the partnership of Stickney & Murphy, Stickney Murphy Romine Architects PLLC has worked with private and public sector clients to develop new and rehabilitation designs for affordable multi-family housing, commercial and institutional use. Firm projects are diverse, ranging from new construction for low-income multi-family housing to historic rehabilitation for market rate housing, affordable housing and commercial use. Past projects include renovation of the Belmont Boylston Houses for Historic Seattle, [http://www.ci.seattle.wa.us/planning/pda/PDA-Historic.htm] rehabilitation of the Arctic and Alaska Buildings and new construction of a transitional housing facility for the YWCA in Redmond, WA.
While a large portion of the firm's work is in affordable multi-family housing, they are also active in non-residential renovation projects. Ongoing relationships with the University of Washington, Washington State University, the City of Seattle and King County have resulted in life safety upgrades and historic rehabilitations of numerous buildings including museums, fire stations and university campus buildings. Currently, Stickney Murphy Romine is conducting a series of dormitory elevator modernization projects for the University of Washington.
The David Colwell Building (see photo below) provides 126 units of affordable housing comprised of studios and one-bedroom apartments located on five floors of housing above 4000SF of commercial street frontages, and parking. The housing is located around the second-floor landscaped courtyard that gives needed open space on an urban site. The building is located in the Cascade Neighborhood, south of Lake Union, at the intersections of Denny Way, Stewart Street and Yale Avenue.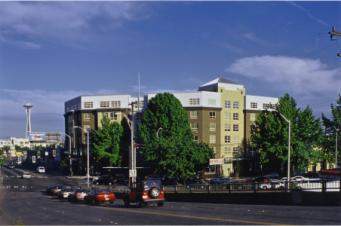 This project involved numerous meetings with concerned citizens, the Community Council, and City Design Reviews. It was funded in part using a D.H.H.S. funding application, and will serve residents at 0–50% median income. A portion will be set aside for clients referred by the NW AIDS Foundation, and 10 percent of all residents are expected to be senior citizens.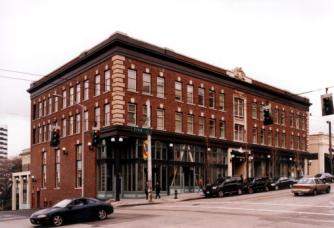 A total of 62 new affordable housing units on First Hill are located in the rehabilitated Villa Apartments (above) and a new attached wing. Residential units are in studio and one-bedroom configurations in both the new and rehabilitated portions of the project. All units have access to a raised and private courtyard (see photo below) overlooking a small pocket park north of the property. Streetfront commercial spaces on the first floor are provided for neighborhood retailers. On-site parking is provided for both residential and commercial users. The Villa, although not listed as a historic property, is a handsome brick and heavy timber SRO-hotel type building, built in 1908, and is prominently located just east of the downtown core.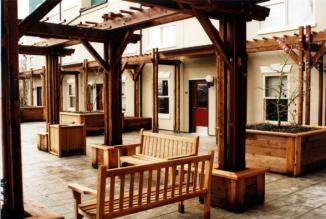 As a gateway to the Pike-Pine corridor, this project will announce the mixed-use residential and commercial character of the district and has received solid support from neighborhood residents and business owners.
Located in the heart of the historic Pioneer Square neighborhood, the Terry Denny Building (a.k.a. Hotel Northern) is a wood frame and brick masonry building constructed in 1890.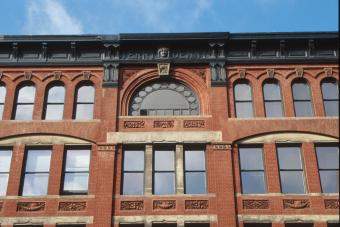 Improvements include a sixth-floor addition of eight penthouse units with sleeping lofts and rehabilitation of four stories for market rate rental housing. Residential units in the existing floors consist of large open spaces with high ceilings and an abundance of exposed brick walls.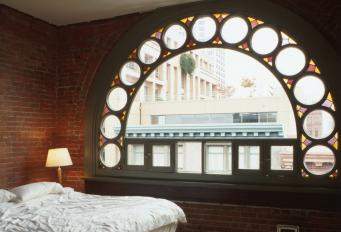 Street level retail remains on the first floor. The building also has two new elevators, new exit stairs and life-safety upgrades, as well as seismic reinforcement and bracing. Existing ornamental millwork was reused in the rehabilitation and parking was added in the basement of the building. The Terry Denny Building is owned by the Samis Land Company.
Current SMR projects include a new building in Belltown for the YWCA's Angeline's Woman's Day Shelter, a historic renovation of the South Entrance to the King County Courthouse and emergency earthquake repairs to the Compass Center homeless shelter in Pioneer Square.
King County Courthouse South Entrance As an historic architectural consultant, Stickney Murphy Romine, in association with Coughlin Porter Lundeen Structural Engineers, is currently working on a seismic upgrade of the King County Courthouse. The firm's role has recently expanded to include a redesign of the original South entrance to the building, which has been radically altered over the years. The goal is to reestablish the south lobby as the primary entrance to the building and to restore many of the original finishes such as patterned marble floors, marble columns and ornamental vaulted plaster ceilings.
The Compass Center* on South Washington Street is currently going through emergency repair work after sustaining serious earthquake damage. City inspectors slapped a red tag on it after finding it structurally unsound after the February 28, 2001, tremor. Before the quake, they were in the midst of a study to seismically upgrade the building and bring it up to code.