the M-factor
published by McKay/Moore Construction Cost Control Consultants (WBE/DBE)
Editor's Note:
By Pat Moore


Since Bruce McKay and I founded the McKay/Moore Partnership in early 1996, McKay/Moore has provided both cost estimating and administrative services to dozens of firms and individuals, primarily in the architectural and construction industries. As the firm celebrates its sixth year in business, we look forward to continuing to serve this community.

Below is our recurring Featured Client column, which in this issue highlights the work of one of our "Remote Secretary" clients. Sullivan Builders, like McKay/Moore, is a small Ballard-area firm. Over the last year and a half, we have developed customized spreadsheets to keep track of hours, tasks, payments and invoices; we have created customized proposals, contracts and fee agreements, and recently assisted in production of a new marketing brochure. Some images from that brochure appear here.
This issue's Featured Client:

SULLIVAN BUILDERS

---
License # SULLIB-026B1
9030 15th Ave. NW Seattle, WA 98117
Pager (206) 680-1055 Cellular (206) 465-7996 Business (206) 783-1470


Sam Sullivan and his professional builders consider themselves to be "artists, using concrete, wood and steel...each job being its own form of lasting art". Their clients are almost exclusively of a professional nature, sometimes unsure of how to clearly define their dreams, yet who want to be extensively involved and maintain the flexibility to change their path. Sullivan Builders prefers smaller, complex projects. On a foundation of many years of experience, Sam, founder and principal of Sullivan Builders, states, "We have perfected an extensive combination of skills, primarily complex framing, millwork, tile, laminate, linoleum, fixtures and appliances. This allows our clients to avoid most of the stand-and-wait for the qualified craftsman. We are able to move through an addition, a bathroom or kitchen in less than one-half the normal time to completion."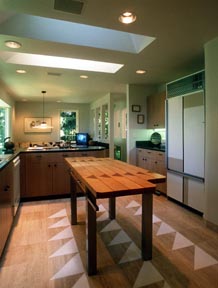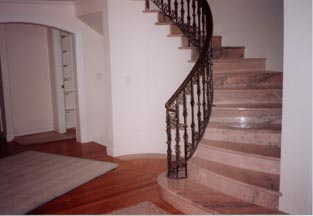 Some of Sullivan Builders' work was featured in the October 9, 1994, issue of Pacific Magazine (see cover shot below).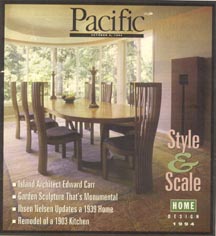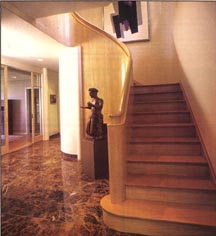 The ceiling shown on the cover [bottom left photo] contains 28 lights, most of them hidden. The compound circles were built of wood products, template fabricated for the tapers. "Radius walls [top right] are often extremely expensive and filled with defects, yet the process we developed of using three layers of 12" x 1/8" fiberboard with extensive stapling and gluing over studs 4" on center provides a wall virtually perfect, yet extremely stable and strong. The radius stairway shown above [bottom right] was built over a stairway that required a most unusual structure to provide 100% stable support for the extremely expensive stone." - Sam Sullivan, Owner, Sullivan Builders
Construction Terms:

Sources: Encyclopedia of Construction Terms by James T. Frane, Craftsman Book Company, 1994; R & R Hardwood, Inc. website: http://www.rrhardwood.com/faqstairs.htm; American Midwest Stair website: http://www.stairsandrails.com/glossary.htm
This month's topic: Stairs

For more terms, visit the above-referenced websites.
Baluster - a vertical spindle or turning that is installed on a tread (step) to help support the handrail; there are usually 2 or 3 per tread.
Balustrade system - a term referring to all the parts (newels, balusters and handrail) of a particular stairway.
Banister - a baluster ( corruption of baluster ).
Bull nose tread - a tread that has one or both sides finished in a radius. Often used as a starting step and often requires a curved riser beneath.
Circular stairway - a curved stairway which is mounted on stringers rather than a central pole.
Dado joint - a dado joint is made by cutting a groove into one piece of wood and fitting the adjoining piece into that groove.
Finial - the ornamental top of a newel post. Carved, shaped or turned.
Horse - another term for the stringer or supporting member of the staircase.
Newels or newel post - a solid rectangular, or circular section of vertical post at the center and at regular turns and junctions of a rail system. The newels provide the main support for the rail system. There is a starting newel at the base of the stairs and a landing newel at the turns or top of the stair. Newels are larger in diameter than balusters. Other newels are described as: center turned newel, box newel, pin top newel
Nosing - a narrow bull nose tread situated over the top riser and along the edge of a balcony to give the appearance of a tread at the top of the stairway.
Rabbet - an L-shaped cutout at an edge or along the side of a piece of material. These grooves are useful in joining materials so that the pieces joined are flush. Also called a rebate.
Railing - a horizontal member used as a safety barrier or a member used as a handhold running parallel to a stairway or elevated walkway.
Rake - the angle of ascent of a stairway. This is determined by the rise and run.
Rise - The vertical measurement from the top of one tread to the top of the next tread.
Riser - Vertical boards between stairway treads.
Run - the front to back depth of a stair step.
Spindles - the balusters or turned, carved or otherwise vertical sections placed between the handrail and the stair tread or stair stringer.
Spiral staircase - stairs, which rise regularly around a cylinder, real or imaginary. Sometimes called helical.
Spiral stairway - a curved stairway which is mounted on a central pole rather than on stringers.
Stair - one step in a flight of stairs.
Stair step - one stair tread.
Stairs - a series of steps that allow passage between floors of a building, or between two different levels.
Stairway, closed-string - a stairway with walls on both sides.
Stairway, housed - a staircase in which the treads, risers and stringers are connected with rabbet joints which are both glued and nailed to fit tightly together, making a staircase that won't squeak or allow dust and dirt to get into the joints.
Stairway, open-string - a stairway with a wall on one side and (usually) a rail and balusters on the other.
Stairwell - the vertical shaft, through one or more floors, that encloses the stairway in a building.
Stringer, housed - a stairway stringer that has dado grooves into which the treads and risers fit. The treads and risers are glued and nailed into the grooves, making a firm, stable stairway that will not squeak.
Stringers - the supporting members which run the length of the stairway on which treads, risers, and balustrade are mounted.
Toe rail - a horizontal component of a rail system, parallel to the handrail. Balusters are placed on this component.
Tread - the horizontal boards on stairs that make up the steps.
Walk line - an arbitrary line but generally 12" from the inside radius of a curved stair.
Winding stair - a spiral star; a circular or elliptical geometrical stair.
Welcome to recent new McKay/Moore estimating services clients:

Please visit their websites for more information on these firms
Recently completed estimating projects:

Malakal Marina, Phase 1, Palau, quantity takeoff for American Building Supply
Skagit Valley Kidney Center, Mt. Vernon, CD update/review for Mithun Partners
Ivar's Acres of Clams, Pier 54, Kitchen Repair Bid Review for Hartford Steam Boiler (see above)
The new Nolan Center (museum, civic center, visitor center), Wrangell, AK, 70% CD estimate for Salmon Bay Design Group
Latest Remote Secretary projects:

Sullivan Builders' company brochure layout
Excel spreadsheets for tracking manhours, project breakdown by task, etc., for Sullivan Builders
Transcriptions of taped patient sessions, word processing of handwritten clinical notes for local psychiatrist
Production of contracts and other business forms for several local firms, including Interocean Seafood Company, Start Corporation/Project Developers, Inc., RDI Energy Plants, Inc.
Tape transcription and legal typing (pleadings, etc.) for several individuals involved in ongoing court cases.
Development of spreadsheet for tax cash flow analysis and rental income credit analysis for local banker
Typing (yes, on a typewriter!) of 15 fellowship grant applications for UW physician
Consultant profile:

In previous issues of this newsletter, we have introduced various estimating consultants to you. In this issue, we would like to familiarize you with John Langer, who has worked on several recent projects, primarily in the area of estimating mechanical and electrical systems. Through McKay/Moore's affiliation with Angeline, we have had available to us many talented and experienced mechanical, electrical, and civil engineers, who have provided us with invaluable backup on many of our projects over the years. In recent months, McKay/Moore has developed a working relationship with John Langer, who has more than thirty-two years of professional experience with an emphasis on engineering, estimating and project management.

For most of his career, John has been involved with the mechanical, process equipment, and electrical portions of projects, from estimating and planning through managing the construction phase to startup and commissioning. John has been a self-employed Construction Consultant since December 1991. As such, he provides continuing project management, estimating and scheduling services to several small contracting and A/E firms in the Western United States. He has also been retained by a large aerospace firm to manage change order negotiations for a $2.6 billion expansion program and has provided cost estimating services to the State of Washington, Department of Capitol Facilities to prepare earthquake assessment costs for submission to FEMA for damages to the Capitol Campus.

As a project and construction manager, he has had extensive experience working on facility renovation projects, including offshore production facilities from Alaska to the Gulf of Mexico. He has completed renovation work for the US Navy in the Caribbean and at Bremerton, Washington and has also been involved with the planning, cost estimating and project management for facility renovations for several school districts and private industry. Most of these projects had intensive mechanical, process and electrical systems as a key part of the renovations.

John is familiar with the LEEDS* program and has been involved with waste reduction programs while a project manager with Lease Crutcher Lewis and Bechtel Corporation. Because his function on a project typically begins after design has been completed, his focus has been on recycling jobsite materials and segregating waste products to maximize recycling and/or reuse. Recently, he completed the mechanical cost estimate for the National Fisheries Laboratory renovation in Hawaii and was on the evaluation team for alternative and sustainable methods for cooling and irrigating the facility. He attended the University of Washington, majoring in Civil Engineering; he also later received a certificate of completion from the Executive Management Program (1989-1990) at the University of Washington. He has completed Value Engineering training modules I & II and is working on his CVS certification from the Society of Value Engineers of which he is a member and chapter officer. He is currently a member of the PMI (Project Management Institute) and an advisory board member of the Project Management Masters Program at City U. He has also instructed classes in principles of Project Management to numerous entities including the FAA.

John has worked with McKay/Moore on both Design Development and Construction Documents phases of the Skagit Valley Kidney Center project. He is scheduled to with us on future phases of the Malakal Marina in Palau, including a Welcome Center and Hotel. As well, he prepared the mechanical and electrical portions of McKay/Moore's recent CD estimate for the Nolan Center (visitor center and museum) in Wrangell, Alaska.

* The U.S. Green Building Council is the nation's foremost coalition of leaders from across the building industry working to promote buildings that are environmentally responsible, profitable, and healthy places to live and work.
---
The LEED Green Building Rating SystemTM is a priority program of the US Green Building Council. It is a building rating system designed to evaluate environmental performance from a "whole building" perspective over a building's life cycle. See the U.S. Green Building Council website for a more complete overview of the LEEDS program.
Related information: Visit www.builtgreen.net to read about Built Green, a sustainable building program of the Master Builders Association of King and Snohomish Counties. This program assists Puget Sound area builders construct quality homes utilizing environmentally sensitive building practices and materials.
---