This Issue Features:
Environmental Issues
Editor's Comments
by Pat Moore
McKay/Moore Consultants' primary goal is to provide our clients with independent professional cost advice. A primary goal of our clients is to reduce or at least control costs. In recent years, as the environmental protection movement has grown and energy conservation has become a more critical concern, impacts on the design and construction industries have increased the focus on cost control.
Particularly here in the Pacific Northwest, we cannot pick up a newspaper or tune into the local TV news without hearing arguments on several sides of issues regarding salmon recovery, logging, and old growth timber. Last year, headlines screamed "More than a quarter of the highway and bridge construction work scheduled by Snohomish County "likely to be delayed a year" due to concerns over Chinook salmon listed as a threatened species under the Endangered Species Act. Let the listing go into effect, some local officials said, and economic growth could be as effectively stopped as a fish trying to scale a dam without a ladder.
Concerns and opinions on the part of environmentalists, economists, local businesses and consumers are real and passionate. "I am concerned about the listing," said one local developer. "If you've seen the prices of housing, it's not cheap, and every time you add another regulation you price a lot of people out of affordable housing."
Are the goals of biologists, environmentalists, businesspeople, etc., mutually exclusive? Regulations protecting salmon and the environment in general do impact the economy - but does the success of one sector necessarily mean disaster for the other?
"Sustainability equals conservation plus stewardship plus restoration." - Sim Van der Ryn, 1994

Lemons into Lemonade
We all have been affected by environmental protection issues. Concerns over endangered salmon runs have, at least for the time being, put on hold a project McKay/Moore had been involved in for the last two years.
In August of 1998, we began working with landscape architect Henry Boyar on a 72 acre project north of Marysville called Strawberry Fields (see map below), which would include an athletic complex with soccer, softball, baseball, and little league fields, as well as open space and trails. Last summer, as Marysville was proceeding with final design for grading, draining, and utility installations, an environmental review showed that endangered Chinook Salmon were found in Quilceda Creek. (Quilceda Creek reaches Ebey Slough, part of the Snohomish River, just before it dumps into Possession Sound on the Puget.)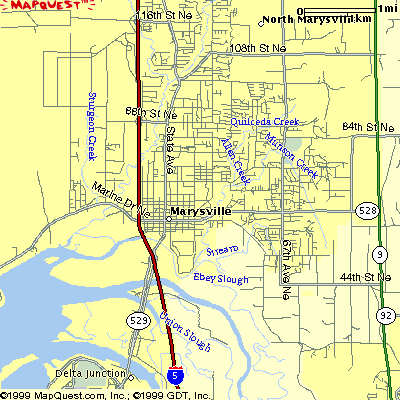 They had been working with the State Dept. of Fisheries to discuss permitting and realignment of a tributary in the northwestern portion of the property that empties into the Quilceda. Due to the Chinook listing and recent sighting of that species in the Quilceda system, they were required to review proposed impacts, and may need to re-delineate their concept as a result of additional buffer requirements. Their fear is that they may experience a significant loss of property use to ESA.
Not everyone, however, sees the ESA listing of the Northwest Chinook salmon as a negative. Construction estimator Venne Beauchamp, who has a degree in Forest Engineering from the University of Washington, remarks: "The sighting of Chinook in the Quil may be a blessing. When the local Scout Council built Fire Mountain Scout Camp, we made a deal with them to use the Lake as a rearing pond for salmon and to use the lake as a reservoir to supply water so that the stream feeding the lake became a year around stream instead of drying up in the summer. Fish and game became our ally and bulldozed the department of ecology to give us the permits to build the lake.
"Several of the scouts from Troop 80 did Eagle projects on the Quil and I had conversations with the State fish and game people. Several years ago they were anxious to improve the Quil and are probably more anxious under current regulations to improve the stream. Right now the property is a pasture with no protection for small fish and little spawning potential. This project would offer them an opportunity to improve the stream by planting trees along the stream and changing it from a drainage ditch back to a wild stream and to develop spawning areas in the stream. The costs would be minimal and the State may even provide the funds. In its current condition it has very little benefit for salmon spawning or the protection of juvenile fish."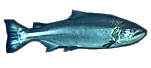 Venne is not the only one who sees these possibilities. Dr. Bob Coyne, who teaches a course in Impact Statement Analysis at Seattle University, is unequivocal about the subject. "You can work with the environment and make it a win-win...do the research now, so there isn't a disaster ten years down the road...that's just the way it is. You have to be creative."
In conversations with city officials regarding the Strawberry Fields project, Venne received the following response: "Thank you for your enthusiasm regarding the potential to upgrade the corridor. We have taken the same approach and have asked for assistance from the Dept. of Fish and Wildlife to assist in re-channeling, rearing pond development and guidance in cleaning the system up. This will be a major component of the project. Our hope is to become eligible for improvement grants as a result of the final design effort."

EPA and DOE Resources
The U.S. Environmental Protection Agency (EPA) proclaims "There are many ways everyone can protect the climate and save money at the same time." ENERGY STAR Homes - promoting "energy efficient homes that save the earth and save you money" - is a program for builders and product manufacturers to increase their profits and customer satisfaction while contributing to a cleaner environment. The EPA and U.S. Department of Energy (DOE) are working together to promote ENERGY STAR Homes as a smart consumer decision for products, building upgrades, and homes that save money while preventing pollution. [http://www.epa.gov/appdstar/protectclimate.html]
As partners in the program, builders agree to construct new homes that use at least 30 percent less energy for home heating, cooling, and water heating than homes based on the national Model Energy Code (MEC). According to the EPA, their ENERGY STAR Homes cost homeowners less because monthly energy savings typically exceed the small increments in monthly mortgage costs to pay for the extra energy features.
One has to wonder what Mr. Edison would say about the progress made in the twentieth century. Even though he invented the light bulb in 1879, it didn't reach widespread use until the 1920s. It is amazing how far we have come in a relatively short time. At the start of the last century, we used open flames to heat and light most of our buildings! And now...!
Mark Ginsberg, Deputy Assistant Secretary of Building Technology, State and Community Programs, Department of Energy, says: "The buildings we live, work and play in are becoming much more sophisticated, and the potential for energy efficiency and use of renewables is increasing dramatically." He predicts that in this century "we'll go from struggling to achieve 20% more efficient buildings or buildings that are 50% above the model energy code, to buildings that are 120% more efficient - buildings that use very little energy and produce more than they need, and that can store up extra power or give it back into the grid."
For more information, contact the Department of Energy at 1000 Independence Ave., SW, Washington, DC 20585-0121; 800-DOE-3732.

More Resources
The American Council for an Energy- Efficient Economy (ACEEE) states: "Some believe that protecting the environment will hurt the U.S. economy and put us at a disadvantage with foreign competitors who have less rigorous environmental standards. This may have been true years ago when "tailpipe" technologies were the primary solution to minimizing pollution. Today, however, we know how to protect the environment by using resources more efficiently: through energy efficiency (E2) and pollution prevention (P2). E2 and P2 are just two types of efficiency, and efficiency has always been recognized as being good for business." ACEEE has taken a close look at the possibilities for businesses to save energy, and currently has 18 case studies of successful business practices posted on their Web site: http://www.aceee.org/p2/index.htm
Click on Environmental Guide at Northwest Builders Network http://www.nwbuildnet.com/ for news, resources, and information about the environment, sustainable building technologies, developments in government policy, legislation and appropriations, updates of EPA and DOE regulations affecting environmental quality, economic growth, job creation, and businesses.

Green Design
Buildings account for one-sixth of the world's fresh water withdrawals, one-quarter of its wood harvest, and two-fifths of its material and energy flows (Roodman and Lenssen, 1995). Building "green" is an opportunity to use our resources efficiently while creating healthier buildings that improve human health, build a better environment, and provide cost savings. [from Environmental Building News - see their website at http://www.buildinggreen.com/]

What Makes a Building Green? "A green building is a structure that is designed, built, renovated, operated, or reused in an ecological and resource-efficient manner. Green buildings are designed to meet certain objectives such as protecting occupant health; improving employee productivity; using energy, water, and other resources more efficiently; and reducing the overall impact to the environment."

What Are the Economic Benefits of Green Buildings? "A green building may cost more up front, but saves through lower operating costs over the life of the building. The green building approach applies a project life cycle cost analysis for determining the appropriate up-front expenditure. This analytical method calculates costs over the useful life of the asset.
These and other cost-savings can only be fully realized when they are incorporated at the project's conceptual design phase with the assistance of an integrated team of professionals. The integrated systems approach ensures that the building is designed as one system rather than a collection of stand-alone systems.
Some benefits, such as improving occupant health, comfort, and productivity, as well as reducing pollution and landfill waste, are not easily quantified and consequently, not adequately considered in cost analysis. For this reason, consider setting aside a small portion of the building budget to cover differential costs associated with less tangible green building benefits or to cover the cost of researching and analyzing green building options. Even with a tight budget, many green building measures can be incorporated with minimal or zero increased up-front costs and they can yield enormous savings."
For more information and green design resources, go to http://www.buildinggreen.com/ and click on Building Green on a Budget.

Construction Cost Savings with Green Building Products - by John Hermannsson, AIA Mr. Hermannsson was the first solar energy specialist for the state of Oregon and has been in independent practice as an architect and building energy consultant in California for many years. He strongly believes that we can save on construction costs while building structures that contribute to our health, well being, and a cleaner environment?
"Not only can green building products be healthier for people and good for the environment, but many green products also are less expensive than the conventional building products they replace. Since many green products are manufactured by small startup companies that can't afford expensive marketing campaigns, they just aren't well known by the construction industry or consumers."
"If you're planning a construction project, you may want to consider some of the less expensive green alternatives to conventional products."
Read his complete article on the web at http://www.improvenet.com/plan/expertadvice/proadvicelibrary/