This Issue Features:
Affordable Housing
Editor's Comments
by Pat Moore
In this issue, our focus is on the urgent need for housing for low-income individuals and families in the Seattle area.
United Way of America has identified affordable housing and health care as the most serious problems for families in annual needs assessments for the past several years.
The U.S. government contends that no more than 30% of a family's household income should be used for total housing costs. Using that criterion, more than 40% of tenants in this country are "rent burdened".
According to HUD's 1999 worst case housing needs report, "Rental Housing Assistance * The Crisis Continues", there are at least 5.3 million households that pay more than half of their incomes for rent and/or live in severely substandard homes. In their report "Out of Reach: The Growing Gap Between Housing Costs and Income of Poor People in the United States", the National Low Income Housing Coalition (NLIHC) concluded that "a full-time minimum-wage worker cannot afford to pay the fair market rent for a two-bedroom unit anywhere in America" http://rhol.org/rental/newstuff.htm - housing wage. The average rent for a two bedroom, one bath apartment in King County was $800 last year, according to King County's annual Affordable Housing Bulletin released in December 2000.
To quote the 2000 King County Annual Growth Report [AGR], "An individual or household seeking an apartment would typically need anywhere from $1000 to $2000 for first and last month's rent and a security deposit. Even with a decently-paying job, these move-in costs are a barrier for a homeless or transitional individual or family seeking housing, as well as for a young person starting out."
We applaud our clients who are involved in the work to design and build low- and moderate-income housing, and we feel privileged to participate in the process by providing cost estimating services as needed.

Need for low and moderate income housing in Seattle
The City of Seattle's 1999-2004 Adopted Capital Improvement Program states: "Recent research on low-income housing need in Seattle shows that over 36,000 renter households are low-income and pay more than 30% of their income for rent and utilities, including 8,000 very low-income elderly and 9,000 low-income families. Also, the Seattle Housing Authority has over 15,000 households on its current waiting lists, including nearly 10,000 families. Over the course of a year, approximately 19,000 persons are served in Seattle's homeless response system. On any given night in Seattle, over 4,000 people are without permanent housing and are considered homeless. Furthermore, an estimated 12,000 Seattle homeowners are low-income and may need assistance with home repairs. Thus, the availability of housing units for low- and very-low-income people is expected to remain a major challenge in the future."
In "Affordable housing in Seattle and King County: Challenges and initiatives" by King County Executive Ron Sims, a 1998 report to the National Housing Conference magazine, "NHC News", only 5.5 percent of King County homes for sale were at that time affordable to those who earn $33,000 to $50,000 annually. In the December 2000 Affordable Housing Bulletin, Mr. Sims states that the average price of a single family home in the spring of 2000 was $310,000, and that, to afford this average-priced home, a household would need to earn 175 percent of the median income. According to the AGR 2000, the Washington State Employment Security Department reported that 98% of workers in King County averaged $38,000 in 1999*. [The other 2% took home 19% of the County's total payroll at an average of $400,000 each.]
* Reliable data from the 2000 Census will not become available until mid-2002.
The City of Seattle, which does not own or manage housing, depends on the Seattle Housing Authority, Public Development Authorities, local for-profit owners, and local nonprofit development agencies to produce and manage affordable units.
The Housing Development Consortium is the trade association for nonprofit housing developers in the Seattle-King County area. Created by its members in 1988, HDC enables them to work collaboratively on ways to increase nonprofit housing production to serve all types of low- and moderate-income housing needs. HDC members have developed over 493 projects totaling over 11,190 housing units. This housing serves a variety of people, including families with children, older adults and individuals with special needs. Most of the agencies provide rental housing for households with incomes less than 50% of median income. Several agencies provide home ownership opportunities for low- and moderate-income families.
Among HDC's associate members are a number of McKay/ Moore's clients, among them Stickney Murphy Romine Architects, GGLO, and Mithun Partners.
Stickney Murphy Romine offers a full range of services for new, rehabilitation and adaptive reuse designs to provide affordable multi-family housing, special needs and institutional uses. McKay/Moore has provided estimating services for SMR since 1996. During 1999 and 2000, we worked with SMR and their client, the Pioneer Square Community Development Organization, on a project to convert the former Star Theater on Occidental Avenue South into a five-story artist loft apartment building, which will have 20 studio units available to those making 50 percent to 80 percent of median income. The Community Development Organization will own and manage the building.
The Seattle Housing Authority develops and manages the largest inventory of low-income housing in Seattle, particularly housing for families and older adults. McKay/Moore has provided estimates for a number of Seattle Housing Authority projects for GGLO, including:
Wakefield Building - Interior Space Improvements
Epstein Building Offices - Renovation / Reconfiguration of Common Space and Client Service Space
Epstein Building TI / Roof Repairs
Affordable Housing Services Center at 907 Ballard Ave. - Renovation and Tenant Improvement

This issue's Featured Client:

GGLO, LLC, Architecture, Interior Design, Landscape Architecture, Planning & Urban Design

GGLO, a full service firm of skilled architects and interior designers, has been a client of our firm since early 2000. GGLO's core competency is housing. Their work in special needs housing encompasses a broad range of communities including independent seniors, residents who require living assistance, persons with dementia, shelters for the homeless, and temporary housing for families needing medical support and care. Their multi-family work includes affordable housing, senior housing, market rate multifamily developments, mixed use housing developments and planned communities incorporating retail and commercial office spaces.
For each of the last five years, GGLO has produced architectural services for approximately 2200 units of housing per year. Since 1985 they have completed over 800 units of affordable and low-income housing units for Seattle non-profit developers. The firm has won repeated acclaim for its affordable-housing communities.
Critics have praised "the lively facades and dignified sense of community" expressed in such GGLO housing projects as Cascade Court on First Hill and the Terry & Graham apartments in Seattle's Cascade neighborhood.
NOTE: McKay/Moore would like to thank GGLO for permission to use the following project photos in this issue of our newsletter.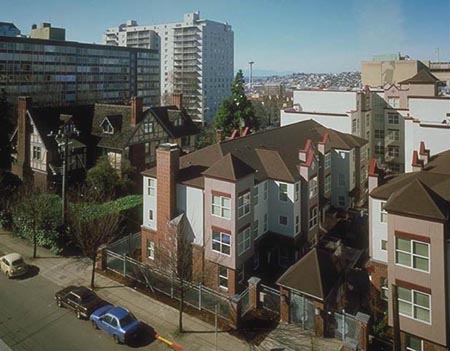 Cascade Court Apartments
The Cascade Court Apartments, Seattle, with 100 low-income apartments, won the 1995 American Institute of Architects, Seattle Chapter Award of Merit, the1994 American Institute of Architects, Seattle Chapter Award of Commendation, and the March 1994 Seattle Times/AIA Project of the Month. In 1999, the Seattle Times, in their review of the best buildings of the century, when addressing "fine new buildings" of the 1990s, gives particular attention to "Cascade Court on First Hill, by GGLO Architects, for showing that lower-income housing - contrary to popular belief - can be a good neighbor". [Lifestyles: Sunday, December 19, 1999 Building Seattle: 100 years of distinctive architecture by Mark Hinshaw]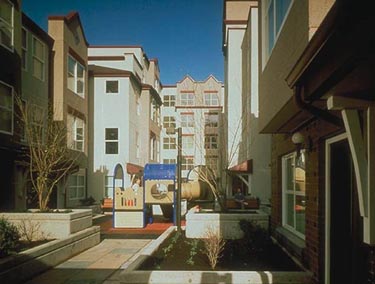 Cascade Court Apartments
In a 1998 Seattle Times article ["Bigger tower includes affordable housing" Business: Saturday, May 23, 1998] Lee Moriwaki, business reporter, described plans for the mixed-use building - "the first time a high-rise office project here has mixed in affordable housing on the same site". Nordstrom and Clise Properties will incorporate a 65-unit affordable housing project on the site of their planned $80 million, 25-story office tower in downtown Seattle. Moriwaki quoted officials for the Housing Resources Group who said the units are aimed at people who earn $8 to $10 an hour, or $20,000 to $25,000 a year. Rents would be $400 to $600 a month in [1998] dollars. The 20 studio and 45 one-bedroom apartment units, designed by GGLO, will be built, owned and managed by the nonprofit Housing Resources Group of Seattle.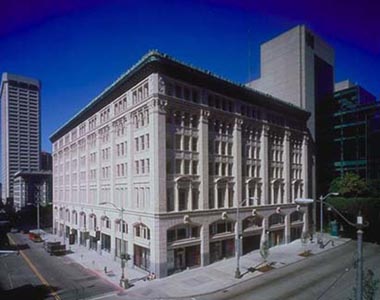 Eagles Apartments
The Eagles Apartments at Kreilsheimer Place, a restoration and adaptive reuse of a 1925 Seattle landmark, is one of the most unusual mixed-use renovations in the U.S., according to architect Chris Libby of GGLO. The bottom floors and center core of the building are now A Contemporary Theatre, or ACT. The 44 studio and one-bedroom apartments wrap around the perimeter of the building, and are acoustically isolated from the theater space. They were also designed to respect the building's historic character.
This project was developed by Seattle Housing Resources Group, which develops below-market-rate housing for lower-wage workers. As such, it's giving hotel, restaurant, retail and other employees affordable housing in a very urban location, Libby says. [Features News: Sunday, June 08, 1997 'Housing the Northwest' by Elizabeth Rhodes, Seattle Times staff reporter] The same article features the Bellevue/Olive Apartments, developed by the Seattle Housing Resources Group and designed by GGLO. This is a mixed-use building that successfully blends with the older apartment buildings of its Capitol Hill neighborhood, while providing below-market-rate family rentals.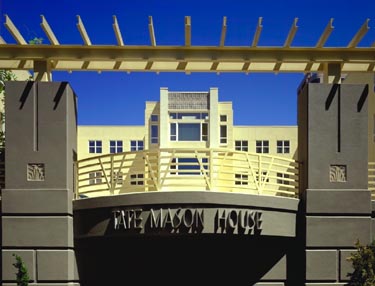 Tate Mason House
The Tate Mason House, Seattle, earned GGLO the 1999 Gold Achievement Award for Affordable Senior Housing [National Council on Seniors' Housing].
In the May 21, 1995 issue of Pacific Magazine by the Seattle Times featured GGLO in its article "Good Neighbors: Seattle Architects Give Public Housing Special Treatment". The author, Lawrence Kreisman, highlights GGLO's low-income housing work and the firm's relationship with the Seattle Housing Resources Group, citing their "belief that people of limited means deserve quality housing."
Amen.