the M-factor Winter 1999 Volume 4.3
---
Feature Article
by Pat Moore
Seismic Upgrades & Retrofits
Editor's Note:
In recent months, we have all been reminded of how vulnerable we are to major earthquakes. Earthquakes of magnitude 6.5 or greater, or ones that caused fatalities, injuries, or substantial damage, have occurred frequently enough to motivate response in local governments and in construction-related industries.
A list of significant earthquakes in 1999 includes Washington's July 3, 1999, event. (See http://wwwneic.cr.usgs.gov/neis/eqlists/sig_1999.html, U.S. Geological Survey's site.)
As of this writing, there have been twenty quakes of magnitude 2.0 or greater in Washington or Oregon in the last six weeks.
The potential dangers to the Pacific Northwest posed by great earthquakes (magnitude 8 or larger) was first confirmed in 1987 by USGS scientists, who found geologic evidence that land along Washington's coast had abruptly dropped into tidal water in about 1700. Public and private groups, mostly at the local level, have responded by taking precautions, such as reinforcing bridges, dams, pipelines, and buildings.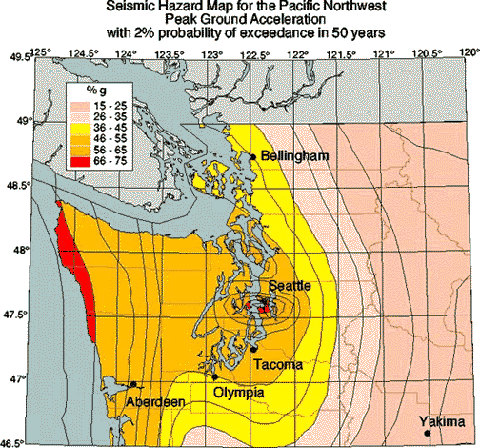 ---
McKay/Moore Consultants' Seismic Experience:
McKay/Moore's primary focus has always been to provide our clients with the best cost advice available. To that end, we have sought to avail ourselves of consultants who have expertise in a variety of specialties.
In this issue, we would like to introduce you to two consultants whose expertise includes seismic upgrades and retrofits.
Wayne Kiser has a long history of experience as a construction estimator, engineering planner, and coordinator. He has performed numerous seismic upgrade estimates, including the following historical building upgrades to meet new UBC Seismic Codes:
Northcoast Electric Building, Seattle, WA
Goldsmith Building, Seattle, WA
Alki Hotel, Seattle, WA
Trianon Ballroom, Seattle, WA
The following are examples of other seismic upgrade estimates performed by Mr. Kiser:
School buildings in Sunnyside, WA
School buildings in Stanwood, WA
(3) Apartment buildings in Seattle, WA
Dick Gregersen has worked over 34 years in the construction industry as a field engineer, superintendent, and cost estimator. He has been involved in projects on steel mills, hospitals, high-rise office structures, forest industry facilities, and heavy industrial jobs. Dick has extensive experience in estimating seismic upgrades and retrofits.
Dick Gregersen and Wayne Kiser worked together on seismic upgrades for five Boeing-owned GSA buildings in Auburn, WA.
[Complete résumés can be found by clicking on the 'Consultants' link at left.]
---
Local Seismic Projects & Related Web Resources:
The City of Seattle depends heavily on bridges that cross its many rivers, bays, and inlets. Concerned about the possibility of an earthquake, it carried out an extensive survey of 45 bridges, identifying those at greatest risk.
[The following information is provided by the Seattle Transportation Department. For details on these retrofits and links to DOT construction news, go to http://cityofseattle.net/td/seismic.asp.]
The Seismic Retrofit Program was initiated in 1990 as a result of the increased public and governmental concern resulting from the Loma Prieta Earthquake in Northern California. The Seattle City Council appropriated funding to analyze and prioritize the City's bridges for seismic retrofit needs.
Under Phase 1, work on a number of bridge structures was scheduled in order for the bridges to better withstand a major earthquake. These bridges were selected for strengthening based upon their structural capacity and their location on emergency response routes or other important transportation corridors. (See the web page shown below for details on specific bridges.)
Major maintenance and seismic retrofit work began on the Fremont Bridge in June of 1999. This is the last of 25 bridges to be strengthened as part of the City of Seattle's Bridge Seismic Retrofit and Major Maintenance Program, a $24 million program to make key bridges more likely to withstand the force of a major earthquake.
On the WSDOT website, there is also information of interest, such as a research paper on the seismic vulnerability of the Alaskan Way Viaduct. The Alaskan Way Viaduct Seismic Risk Mitigation System is discussed, as well as other WSDOT projects for the 1999-2001 Program, and including reports on recently completed projects.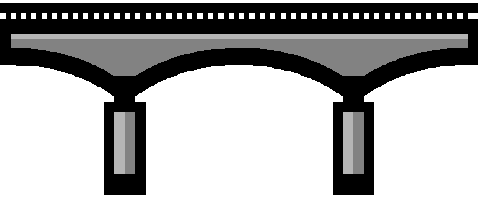 The seismic upgrade for the SeaTac International Airport includes design for the Main Terminal buildings, Administrative Building, Central Terminal Building, and Control Tower. For further information on SeaTac International Airport Seismic Upgrade, SeaTac, Washington, visit RSP/EQE's website at http://www.rsp-eqe.com/seatac.htm.

Read the DJC's article, "Finding a firm footing" by Thomas Gurtowski of Shannon & Wilson, Inc.

http://www.djc.com/special/safeco/10053880.htm?10053880 for an interesting review of the seismic challenges faced by the site selected for Safeco Field.

DJC's September 30, 1999 issue included Bracing for the 'Big One' by K. Casey Caughie, P.E., a senior associate with Skilling Ward Magnusson Barkshire in Seattle. This is an excellent article, which discusses a number of relevant issues. Of the costs involved in seismic retrofits, the author states: "Locally, structural rehabilitation costs range from less than $4 to more than $26 per square foot. However, since structural rehabilitation usually comprises just a small percentage of the total cost of rehabilitation -- which can include mechanical, electrical, and architectural upgrades -- it's often inexpensively combined with other work."

The article also thoroughly addresses the question of retrofit levels ["The four progressive levels of damage to buildings and their nonstructural contents -- such as mechanical and electrical systems, computers, casework and suspended ceilings, for example -- are: life-safety, collapse-prevention, immediate-occupancy, and operational."] and points out that " increasing from life-safety to immediate-occupancy may cost very little, and the time to consider that change is during planning stages."

The USGS (U.S. Geological Survey) website, http://geohazards.cr.usgs.gov/pacnw/, dedicated to reducing earthquake losses in the Pacific Northwest, covers topics related to seismology, tectonics, engineering, and hazards (landslide, tsunami, etc.).

Seismic Safety Assessment of Critical Structures:

To assist city planners in mitigation activities, USGS scientists have begun to carefully document the seismic response and characteristics of critical structures in and near Seattle. The field tests involve synchronized recording of structures' vibrations at several locations using portable digital recorders fitted with velocity and acceleration sensors. The excitation sources for the vibrations include impulse hammers, shear-wave generators, earth thumpers, eccentric-mass shakers, and ambient forces. Depending on the funding, one or two structures will be tested every year.

For selected structures that are tested, finite element models that match the test data will be developed, and the expected responses to future large earthquakes in the region will be calculated. The results will be used to assess the seismic safety of these structures and to provide guidelines for retrofitting.

The Pacific Northwest Seismograph Network (PNSN) operates seismograph stations and locates earthquakes in Washington. See their site at http://www.geophys.washington.edu/SEIS/PNSN/welcome.html for information on PNW earthquake activity and hazards. Included are recent significant (felt) earthquakes in the Pacific Northwest and real-time PNSN seismograph displays.

See also http://hoshi.cic.sfu.ca/cgi-bin/quake.pl?quake @geophys.washington.edu for a catalog of recent earthquakes.

The Multidisciplinary Center for Earthquake Engineering Research has as its mission the reduction of losses through research, development and application of new knowledge and advanced technologies: http://mceer.buffalo.edu/default.asp. Among the articles on this website is an interesting study of the earthquake safety of buried pipelines.

For an interesting article on Seismic Stabilization of Historic Building Facades, see http://www.wje.com/articles/seismic.html. Authors Carolyn L. Searls and Sven E. Thomasen state: "Seismic retrofit of historic buildings does not, according to code, guarantee buildings will survive undamaged. Retrofit is intended to balance intervention to reduce the risk of injury or property damage against the desire to preserve historic fabric. Selecting the level of seismic stabilization is a difficult task that should be done by the owner at the beginning of the project based on input from the architect, preservationist, and structural engineer. Strengthening to ensure a structure survives earthquakes without damage might be technically feasible, but it might also involve high cost and unacceptable impact on the structure's historic character. On the other hand, inadequate strengthening that spares a building's beauty may allow the building to collapse in a major earthquake."

A thought-provoking article in the Earthquake Quarterly - Winter 1999, produced by the Western States Seismic Policy Council, discusses "Incentive and Impediments to Improving the Seismic Performance of Buildings". Several issues of this newsletter can be found on their website at http://www.wsspc.org/home.html.

Our Website:

Some recent additions to our "Links" Pages:

Seismic links:
http://www.metrokc.gov/prepare/seismic.htm King County Office of Emergency Management Seismic and Earthquake Links

http://www.geophys.washington.edu/seismosurfing.html University of Washington Geophysics Program: "Seismo-surfing" the Internet - connections to original seismic data or seismic research information

http://www.usgs.gov/ U.S. Geological Survey with links to Seismic Hazard Maps: http://geohazards.cr.usgs.gov/eq/index.html

http://aslwww.cr.usgs.gov/Seismic_Data/liss.htm The USGS Live Internet Seismic Server (LISS) brings in live seismic data (seismograms), via the Internet, from seismographic stations around the world.

http://nisee.berkeley.edu/ The National Information Service for Earthquake Engineering, sponsored by the National Science Foundation and the University of California, Berkeley. Link from this site to Earthquake Engineering Abstracts (EEA) for comprehensive coverage of the world's literature in earthquake engineering since 1971 (82,000 records). This is an excellent, informative site. Its Structural Engineering Slide Library is very interesting.

"Taking Winter by Storm" Taking Winter by Storm 2000/2001 This is a joint web site hosted by Seattle Transportation, King County Department of Transportation, and the Washington State Department of Transportation. King County Metro's site addresses several public safety issues, including: http://www.metrokc.gov/govlink/slide.htm including an article on "Reducing Landslide and Stormwater Erosion Damage: What You Can Do"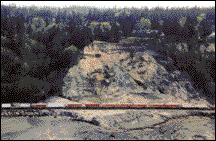 Severe winter storms in the Pacific Northwest are often accompanied by landslides, debris flows, and abrupt ground subsidence that blocked or cut major highways throughout the region. One landslide, the Woodway slide (see photo above) in the Puget Sound area, sent 10 cars from a Burlington-Northern freight train into Puget Sound. Landslide hazard evaluation in Washington and Oregon was done by USGS scientists, with the Federal Emergency Management Agency's (FEMA) support, in the wake of the 1996 winter storms. Those results, coupled with 1997's very similar experiences, have led to installation of a real-time monitoring site on the Woodway slide, which is still active and threatens the Rapid Transit Authority corridor between Seattle and Edmonds, Wash. For more information, go to http://www.usgs.gov/themes/FS-188-97/

http://www.metrokc.gov/govlink/quakes.htm including four DCLU articles on earthquake preparation
Major Earthquake Weakness: Securing an Unbraced Water Heater in Your Home
Introduction to Bolting Your House to its Foundation and Bracing Cripple Walls
Connection of Wood Framing to Concrete Foundation
The Final Installment: Bracing the Cripple Wall
---